Airtel Personal Loan Kaise Le | Get Rs. 5 Lakhs Instantly | Review
Recently Airtel company has launched the facility of giving personal loan for its customers. But most of the people do not know about this facility provided by Airtel App.
No problem, in today's article we will tell you how Airtel Payment Bank Se Loan Kaise Le, how to apply for loan, how much loan can be availed from airtel app and
Apart from this, you will give information about the Eligibility Criteria, Documents, Features of this loan and also tell all the details about whether this mobile application gives loan safely or not, then friends, you have to read this post carefully till the end.
What is Airtel?
By the way, most people know that airtel is a mobile network operator company which is the second largest mobile network operator in India and the third largest mobile network operator in the world.
Airtel Payment Bank Account was launched in January 2017 by Bharti Airtel, India's largest telecommunications provider, to support the Indian government's cashless campaign that plays a key role in making the banking system simple, convenient and seamless. Is.
Airtel Payment Bank provides its customers with the facility of online payment like mobile recharge, DTH recharge, credit bill deposit and personal loan.
You can use Airtel Payment Bank only through the Airtel app, which provides you with a bank account, online debit card as well.
This mobile application does not provide direct loan but gives loan in association with some partnership companies like Akara Capital Advisors which is approved by Reserve Bank of India (RBI) and NBFCs.
Airtel forwards the loan you applied for with some specific banks and finance companies which actually provides you the loan on this platform.
Airtel Payment Bank Se Loan Kaise Le?
To take a loan from Airtel Payment Bank, you must first have a full KYC account of Airtel Payment bank, and your age should be more than 21 years. To take a loan, Airtel Thanks App has to be installed from Google Play Store. Where you will see the option of GET LOAN. Here you can take a loan by completing the loan formalities.
Airtel Payment Bank is a Scheduled Payments Bank, with the help of this bank you will be able to take personal loan online. To take a personal loan, Airtel Thanks App has to be downloaded from Google Play Store. And after registering on other partnership loan applications like Stashfin App, Cashe App, Krazybee App, etc. after selecting the Get Loan option from the Banking section, you can get the loan amount in your Airtel Payments Bank.
Let us know Airtel Payment Bank Loan Apply Process and Airtel Personal Loan can be taken by following the steps mentioned below which is as follows.
Note-:  Before taking airtel app loan, you have to get your savings account opened and you can open this account by visiting your nearest airtel store with aadhar card and pan card.
Apart from this, you can also get your account full E-KYC done from airtel retailers.
Step 1. Install Airtel App from Google Play Store.
Step 2. Sign up with your mobile number.
Step 3. Select the Banking section or Airtel Wallet in the app.
Step 4. Now click on Get Loan and here choose your personal loan.
Step 5. After this you have to submit the loan amount time and pin code
Step 6. Now click on the Apply button in the Cashe section.
Step 7. After this click on Select and accept the Terms of Conditions.
Step 8. Now you have to complete the registration process on the Stashfin app.
Step 9. Once the loan is approved, it is transferred to your Airtel Payment Bank.
Note: Airtel mobile application does not provide direct loan but gives loan in collaboration with some partnership companies. You can also apply for direct loan from these mobile apps.
Airtel Payment Bank Documents
Identity Proof-: PAN ID, Voter ID, Aadhar

Address Proof-: Aadhar Card, Voter ID, Driving License etc.

Bank statement

ITR
Airtel Payment Bank Loan Eligibility
Following are the eligibility criteria for availing Airtel loan which are as follows:
You must be a citizen of India.

Applicant's age should be more than 21

It is mandatory for the applicant to have an Airtel Payment Bank account.

Your civil score should be good.

You must also have a mobile number linked with Aadhar card.

You must have an income source.

You should be self employed or employed in some work.

You should have KYC documents like Aadhar card, PAN card.

ITR, GST bill may be required for maximum loan.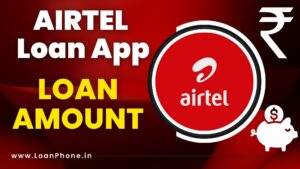 Airtel Payment Bank Maximum Loan Amount?
You can take Airtel Payment Bank Personal Loan for online bill payment (Minimum to Maximum) Rs.3,000 – Rs.5,00,000. If your credit score is not good then it can also get rejected.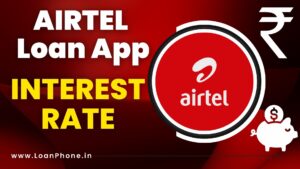 Airtel Payment Bank Interest Rate?
For Airtel personal loan, you can take an instant personal loan at Minimum 16% to Maximum 60% annual interest rate. Apart from this, you may also have to pay a processing fee (2% to 10%) and this includes GST charges.
Airtel Payment Bank Loan Eligibility?
Airtel app provides loans to its customers through digital KYC and every person in India can apply for this loan, for this he should be above 21 years of age and should have a monthly income source.
Through this, people who are employed, small shopkeepers, a common man, Self Employed etc. can take this loan for online shopping.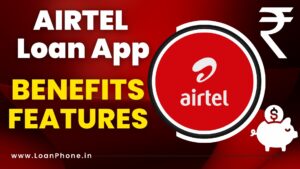 Airtel App Features/Benefits
Following are the features of Airtel Payment Bank Loan:
You can apply from the Airtel app sitting at home through 100% online process.

The loan gets approved in 24 to 48

After the loan is approved, you can get the loan amount in the bank account.

Customer support is very good.

You can deposit money in your account with Airtel UPI.

You can update your account with real time updates.

Through scan code, you can receive payment in your account and can also make payment.

It is a secure, fast and simple application.

You can deposit money in your account through Debit Card, Net Banking, Credit Card.

You can make online payment of any OTT platform.

This app also provides facilities like net banking and IMPS.

You can get the loan instantly with minimal documentation.
Security and Privacy
You can make secure payments through Airtel Payments Bank through Airtel Safe Pay and it uses Airtel network intelligence to send alerts to your mobile number for all transactions giving an extra layer of security.
It does not share any of the information given by you and this mobile application provides you the loan in a secure way and you can check this company on the government website mca.gov.in.
If you are thinking of taking a loan then you can get an instant loan from this application.
Airtel App Loan Kaise Le?
Ans. To take a loan from the Airtel App, you have to have a full KYC account of Airtel Payment Bank, after that you can select the 'Banking' section on the home page through 'Airtel Thanks App' and click on 'Get Loan', fill in your personal information. After that you can take loan in your bank account immediately.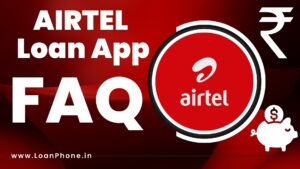 Airtel App Loan FAQs 
Q1. How to get Airtel Personal Loan?
Ans. Airtel personal loan can be taken on the official website and app by filling your basic details like Aadhar card with PAN card.
Q2. What should be the age of the applicant for Airtel loan?
Ans. Applicant age should be above 21 years for Airtel loan.
Q3. Does the airtel app offer secured loans?
Ans. Yes.
Q4. How many types of loans does the airtel app give?
Ans. The Airtel app offers various types of loans like Can Tracker to its customers like Personal Loan Home Loan Property Loan etc.
Q5. What is the processing fee for Airtel loan?
Ans. It depends on the profile of the customer and the credit score. The processing fee for the loan can range from 2% to 10%.
Q6. How to open airtel payment bank account?
Ans. You can open the account with digital eKYC from your nearest airtel store and retailer through aadhar card and pancard.
Q7. How to deposit airtel loan?
Ans. When you apply for the loan, you are given the facility of E-Nach, Auto Debit, through which the credit loan is paid every month from your mentioned account.
Remember-:  For this it is necessary to have money in your account otherwise the bank may charge you overdue.
Conclusion – How To Take Loan From Airtel Payment Bank
Today we have provided you all the information about Airtel Personal Loan Kase Le, Airtel Loan Apply, Airtel Loan Review

Apart from this, we have also shared with you all the other information about the eligibility of this loan, documents for taking the loan, features of the loan.

If you face any kind of problem then you can talk to customer care of airtel app and follow us on social media platform for more details.
If You Want To Know More About Any Personal Loan Then You Should Check Out Our Category Related to Personal Loan By Clicking Here